TrSDB is a BioDB (Biological Relational DataBase) that through the same web interface joins several predictive analyses of protein motifs, domains, cellular localization and functional annotation around different compiled sequences, now IPI and SPTR Non-Redundant proteomes.
TranScout, TransMem and ProtLoc predictions with crosslinks to InterPro, Gene Ontology Annotation, ENSEMBL, SWISS-PROT/TREMBL, REFSEQ and inter and intraspecies precomputed BLAST Analyses are provided when suitable for each proteome entry.

By now, nine eukaryotic organisms proteomes (human, mouse, rat fruit fly, worm, Arabidopis, an alga and two yeasts) may be queried. Periodically compiled proteomes will be updated all at the same time to mantain temporal coherency and new analyses will be provided as well.
When one organism has been selected, a funny icon in the upper-right part of the web screen may help you to remind your organism selection.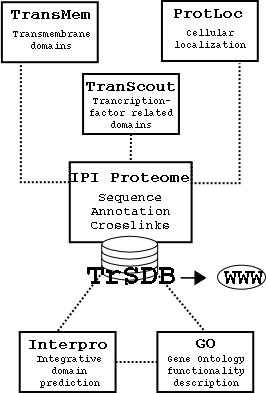 Relations in TrSDB for analysis and/or web interface.